Home

FAQs

Who Needs AcuSleep?

Products

.
The AcuSleep Test

.
Advantages

.
Sample Report

.
Cautions

.
Gallery


.
Future Products

Buy

Snoring Facts

Company

Site Map


The AcuSleep Test
---
The AcuSleep test is the only validated in-home sleep testing system available without a prescription. With just one night's use, AcuSleep creates a comprehensive, easy-to-read report documenting you or your child's sleep patterns, including:

Restlessness
Snoring timing and duration
Body position
Correlation of body position with snoring and restlessness

In addition, you will receive a CD-ROM containing the breathing sounds you or your child made during the test.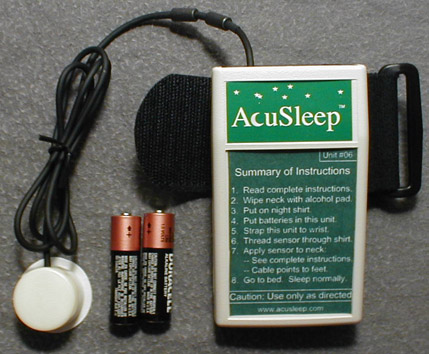 Easy for You
The AcuSleep system is so simple to use. It consists of just one item: a battery-powered recording unit about the size of a deck of cards. A cable connects the recording unit to the sensor microphone. The sensor sticks to the base of the neck with simple peel-and-stick adhesive. Insert the batteries (included), strap the recording unit to your wrist, apply the sensor to your neck, and that's it. After a few minutes most people (children, too!) don't even know they have it on.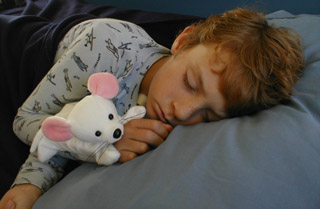 Easy for Your Child
AcuSleep has a special treat for children! They sleep with a WristyTM -- a lovable stuffed animal that straps to the wrist and has a zippered pouch for the recorder. After the test, your child keeps the Wristy.
Convenient
After receiving your order, AcuSleep mails a testing package directly to your home. Everything is included - there are no extra supplies to track down. In the morning put everything (except the Wristy) into the pre-paid mailer. Mail it back to AcuSleep in the US Mail. Within a few days your report and CD-ROM will appear in the mail.
Proper Use
It is important for you to review the cautions for the AcuSleep system.